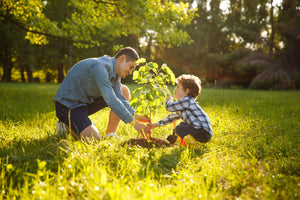 Grow a living memory with The Living Urn®, the patented bio urn & planting system
Enter your zip code here for the best tree options for your area
How Does The Living Urn Work?
About The Living Urn
The patented Living Urn® is America's first and leading bio urn & planting system designed to grow a beautiful, enduring memory tree, plant, or flowers with cremated remains!
Join the tens of thousands of families who have honored a loved one when they pass on and celebrate all they've given us - the joy, the companionship, the love - and keep their memory present in our lives! Give back and grow a living memory with The Living Urn®...
How Does It Work?
The patented Living Urn® BioUrn® and Planting System is complex in its design, but simple and easy to use.
Place your loved one's cremated remains in the BioUrn® and add our proprietary RootProtect® additive on top. Next, lower the roots of the young tree into our special BioUrn®, add premium growth mix, and plant it in the ground. A beautiful, enduring living memorial will then grow up from the urn and the cremated remains to keep your loved one's memory present in your life!
Customization
Customize your loved one's Living Urn with special engraving on the bamboo casing. You can include their name, dates of birth and passing, a sentiment and an optional symbol.
Frequently Asked Questions
For answers to additional questions we commonly receive, please click here
USE THE ECORIAL® APP WITH The Living Urn®
The Ecorial® App is the leading new way to memorialize and honor a loved one as they Rest in Nature®. When planting a Living Urn at a special place, use the Ecorial® App to "mark the spot" by recording the exact GPS coordinates plus the time and date of the event. You can also upload photos and videos of your loved one's forever resting place and create a beautiful interactive online memorial with ease.
The Ecorial® app can be found in Apple's App Store (for iOS) and Google Play (for Android),
don't have a special place in mind to plant?
Memory Forest®
We've partnered with leading cemeteries, memorial parks, and natural preserves nationwide to provide beautiful places where your loved one's Living Urn can be planted...